FAQ's About The Lashout Scooter
---
Frequently Asked Questions About The LashOutTM Electric Scooter
How fast
will the scooter go?

The LashOutTM propulsion system has the capability to propel the scooter up to 16 mph

-- (dependent on terrain and weight of rider).

How far will I go on a charge?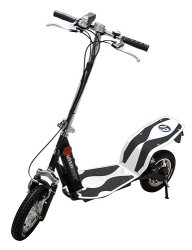 The LashOutTM electric scooter will travel up to 8 miles on flat terrain

- (dependent on terrain and weight of rider).

Does

the LashOutTM battery have a "memory" like my cellular phone?

No! Unlike the Nickel Cadmium batteries found in most computers and cellular phones, the LashOutTM battery may be partially recharged at any time. Our "Smart Charger" recharges the two 12 volt sealed lead-acid batteries without overcharging them. You can leave the charger plugged in whenever the scooter is not in use.

How long to recharge the batteries?

The batteries can be completely recharged in 5-6 hours using the standard battery charger. The optional quick charger

can recharge the batteries in 2 ˝ to 3 hours.

How long will the batteries last?

The LashOutTM reserves the bottom 20% of the battery to prolong its life. Without this system, a completely drained battery would give only 100 recharges. By using only 80% of the battery capacity we increase the number of recharges to 300-400 cycles. If you use half of the available charge, you can get up to 700-800 cycles. As you can see, the battery life is dependent on how often you use it and how deeply you discharge it.

What

is the maintenance on the LashOutTM electric scooter?

Normal maintenance is required. The scooter, battery, motor, and drive system can be washed off and wiped dry while the system is turned off. The electronic controller is sealed inside the motor. Chain adjustment and lubrication are just like that on a normal scooter. The motor itself requires no maintenance.

Can the motor overheat?

The motor has a built in heat sensor that automatically shuts down the system before any damage occurs, should the motor overheat. When the motor cools down, the system will restart automatically.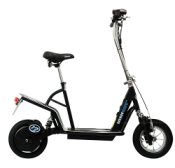 Does the scooter recharge while going downhill?

No. Recharging the batteries while riding

can overcharge and destroy them. Instead, the LashOutTM allows the rear wheel to spin freely while riding faster than the motor. No drag, just power.

How much does it weigh?

It weighs approximately 70 pounds. The weight of a scooter primarily matters when climbing a hill or when first starting from a stop.

Can I ride the LashOutTM off-road?

Yes. The LashOutTM is suitable for normal trails as well as paved streets and paths. It is not suitable for extreme terrain.

What is the warranty?

The LashOutTM electric scooter is warranted for 6 months (most scooters only have 1-3 month warranty). An extended warranty package (increasing coverage up to 1 full year) can be purchased. See warranty in owner's manual for details.